ABOUT LITTLE NOTE
Music for all occasions
We are a music duo that plays many styles of music for many occasions. We sing English, Spanish, Portuguese and Dutch.
Little Note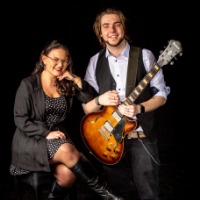 Cosiness. Is that what you are looking for? We are a versatile duo, adapting to every possible occasion for the ultimate result. Snug and cheerful, or rather serious and intimate?
Our singer Michelle has traveled the world and gained much experience. Now she studies at the conservatory in Arnhem.
Jasper is studying at the conservatory in Haarlem. With his multidimensional roots he takes care of the ultimate accompaniment that fits Michelle with just a bit more.
Jazz, pop, latin, bossa's, Dutch sing-alongs, we offer everything you desire! We are little note.